Blink and You Missed It !
2015

Trends ( so far)

Blink and ya Missed it – Trend­ing Online for 2015 (so far)
Things that we liked that were trend­ing so far in 2015

Ø Game of Thrones Sea­son 5 Trailer – one of the most pop­u­lar TV shows cur­rently air­ing was set to launch its highly antic­i­pated new sea­son soon, and fans were evi­dently more than excited as we could not seem to get enough of the trailer! Are you watch­ing this series yet?

Ø "Make Safe Hap­pen". This one caused quite a stir espe­cially on Twit­ter. Dur­ing the 2015 Super Bowl, one of the most depress­ing ads imag­in­able aired elic­it­ing shock and dis­gust from most Amer­i­cans. #Nation­wide trended for a while. Appar­ently the ad por­trays a child describ­ing all the things he didn't get to do because he died due to a pre­ventable acci­dent. The ad was designed to edu­cate that the #1 cause of child­hood death is pre­ventable acci­dents but per­sons won­dered why it was aired mid­dle of a national sports event mean to be enjoyed by mil­lions. Only Nation­wide knows apparently…
Ø Vin Diesel singing and post­ing "My Heart is Open" to Face­book on valentine's day. After 3 hours, the video had almost 3 mil­lion views. It appears Vin has quite the col­lec­tion of cover songs on youtube, prov­ing there's life after act­ing. No Vin! Stick to act­ing only!

Ø "Tow Truck Escape River North Chicago" – this video was trend­ing a few weeks ago as a man, who obvi­ously did not want to be towed, bided his time and drove his car right off the tow truck never to be seen again. Don't think the tow truck dri­ver knew much of what happened…
Ø "Email in Real life" – what would the world be like if every­one talked like how they send emails? This video gives a hilar­i­ous rep­re­sen­ta­tion of this. No more robotic auto­mated emails for me after see­ing this!
Ø Ed Sheeran Sur­prises wed­ding cou­ple with a ser­e­nade – def­i­nitely the "awwwww" moment of 2015 so far. The Debonos were given their per­fect wed­ding by radio sta­tion KIIS 1065 and picked Ed's "Think­ing Out Loud" as their first dance song. How­ever, they were in for an even big­ger sur­prise when the artist him­self dropped in to per­form the song as they did their first dance. Watch the entire video or clock in at 1:49 for the happy moment.
Ø Zayn Malik quits One Direc­tion – the world (specif­i­cally teeny bop­pers) was shocked when the 22 year old quit the band after 5 years. But I don't think no one can blame the guy for want­ing some pri­vate time out of the spot­light that comes with being a star. All the best Zayn!



And finally…#TheDress
Ø There was this dress…Someone on Tum­blr posted a photo of the dress (as seen above) say­ing that they and their friends were try­ing to fig­ure out if the dress is white and gold or blue and black. So nat­u­rally Amer­ica got invested. Per­sons on all the var­i­ous social media sites attempted to fig­ure out the colour of the dress. Kim said white and gold, Kanye said blue and black. But surely we have more inter­est­ing things to talk about than a dress right?… Nope! What colour do you see?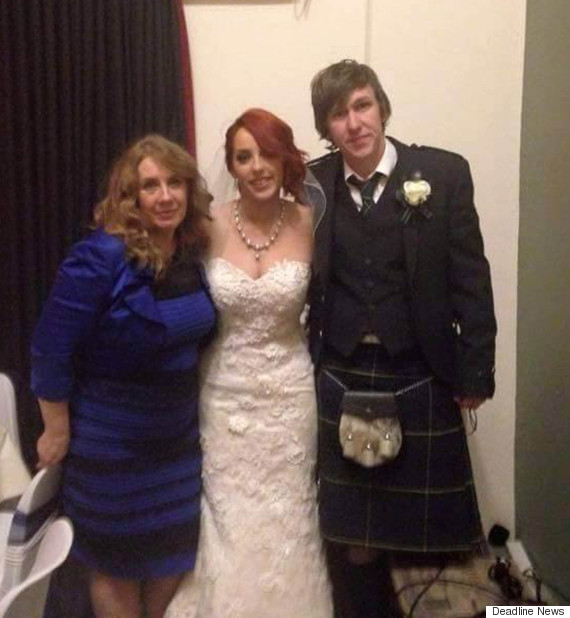 I won­der what else will be trend­ing in the 2nd quar­ter of 2015!